79 miles -- July 27, Day 2, St. Louis Arch, Camp Wood, and St. Charles - 79 mi. ttl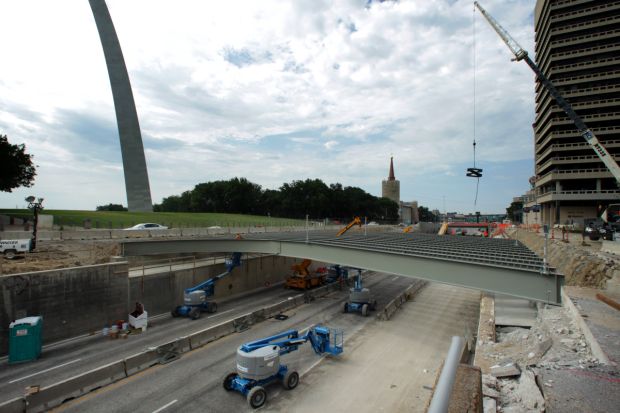 The Arch Grounds in St. Louis is under massive redevelopment. They are putting a lid over I-70 to make a park all the way from the river to the Old courthouse. I agonized for weeks over the time it was going to take to get into the arch, but when we got there we were early on all our times so it was a wonderful day.

Our group at a replica of Camp River Dubois -- Where it all began.

Lunch at Winery of the Little Hills in St. Charles.

A statue in the riverfront park in St. Charles. Three days from now you will see the same statue except for one detail. the sculptor made three of these with slight differences. I have not seen the third.

Character talk at the Lewis and Clark boathouse in St. Charles. And making friends with Pierre Cruzatte.
July 27, Day 2, St. Louis Arch, Camp Wood, and St. Charles


St. Charles to St. Louis Day Route Map
St. Charles Community College Evening Route Map